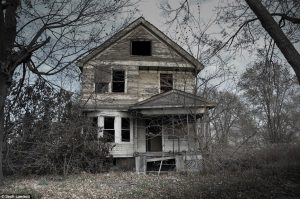 In honour of Halloween next week we compiled a couple spooky home purchases for you (all based on true stories of course)! Here are 2 short stories of home purchases that went wrong, they should make you squirm a little but keep in mind that not every home purchase ends up in nightmares like these!  These stories, although very rare occurrences as part of the home buying process, highlights the reason why working with a Real Estate Professional and hiring a home inspector is incredibly important.
This Home Renovation Went Nuclear
Wally Davis a resident of Port Hope, ON wanted to build a room in the attic of his home. However, where he lives is the location of a former radium and uranium refinery that left contamination spread around the town. When testing the home for contamination it was discovered that there was contamination in the roof, on the floors, in the walls, and everywhere else in the home. Wally who bought the house in the 90s paid just $130,000 for his home, a decade later it cost the town of Port Hope $464,615 to clean up the house. The Davises were well taken care of while their house underwent renovations but it was a long drawn out process that kept them away from their home for some time.
Sometimes you need Spidey Senses when Buying a Home
This house isn't haunted but it would sure be scary to live in! Brian and Susan Trost purchased their home in the summer of 2007. A 2,400 sq.-ft home over-looking a beautiful country club. Shortly after they moved in Susan started noticing webs and then started to see spiders every day. The Trosts then called pest control who identified the spiders as brown recluses (they have a venomous bite and can sometimes leave a person with what looks like a flesh eating disease). The home had drywall and insulation removed and they both sprayed and put down pesticide powder. When that didn't solve the problem the Trost took the previous owners and State Farm Insurance to court. During the trial a University professor estimated the spider population to be "immense" with a total of 4,500-6,000 spiders. The house was then put into foreclosure and unfortunately the Trost have not been living in it for over 2 years.